Alex Stevenson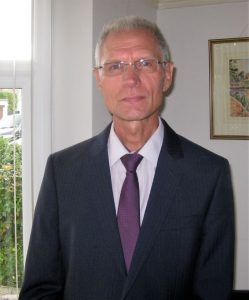 I have a public sector background, working initially in the town planning field but later, in mid-career, moving into the specialist building conservation field.
Having left local government in the autumn of 2015, I now practice privately as a Historic Buildings Consultant, offering this service to developers, architects and direct to private clients.
During my 15 years as a council conservation officer in Northamptonshire, I prided myself in the positive cooperative attitude I adopted towards applicants seeking consent for alterations to listed buildings and development schemes in conservation areas. My skill as a negotiator also often allowed me to suggest improvements to submitted plans allowing better outcomes in terms of fabric conservation, aesthetics and the utilization of internal space.
My "Offer"
My work as a local authority conservation officer has provided me with an in-depth knowledge of council planning processes, covering policy issues, internal bureaucracy and planning committee procedures. An additional outcome is that I now maintain a good working relationship with former conservation and planning colleagues in and around my local area of Northamptonshire. In my opinion, these factors place my heritage consultancy service in a particularly strong position to facilitate the successful achieving of consents for clients.
I have the "hands-on" knowledge and experience to fully understand the constraints connected with development within the historic environment, and hold all the necessary professional qualifications to practice as a built environment conservationist, comprising a Master's Degree in Building Conservation and a Certificate in Architectural History, whilst also maintaining full membership of the controlling body in the field, the Institute of Historic Building Conservation (including my special recognition by that body as a professional historic environment service provider).
I can assess all heritage assets from historic buildings to Conservation Areas and provide design and planning solutions to development issues in the historic environment.
In managing client objectives, my preference is for early involvement in development schemes (i.e. pre-submission) so that the required Heritage Impact Assessments can be fully committed to, in the interests of positively promoting appropriate change within the historic environment.
Completed Conservation Projects
I am very proud of the listed building and conservation area-related projects I have previously worked on and am keen for you to see a few examples.
Click here to view a selection of my completed projects.
Contacting Alex
If you wish to contact me, please use the contact page.
Institute of Historic Building Conservation
Alex Stevenson Building Conservation & Design is recognised by the IHBC as a professional historic environment service provider. The IHBC is the professional body for English Heritage, local authority conservation officers and heritage consultants.